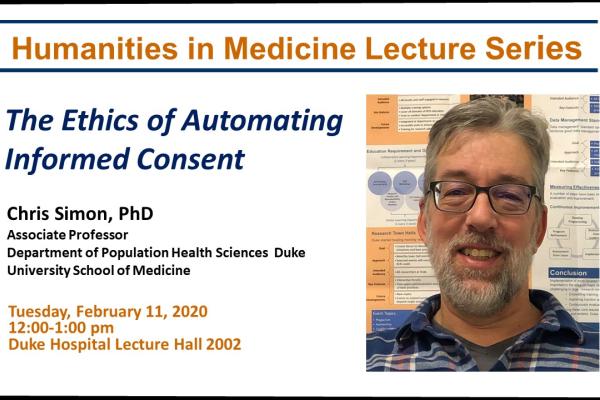 Tuesday, February 11, 2020 -

12:00pm

to

1:00pm
Humanities in Medicine Lecture
Chris Simon, PhD, Associate Professor, Department of Population Health Sciences, Duke University School of Medicine
Lunch provided at NOON. Talk begins at 12:10pm.
Informed consent has entered the digital age. Automated consent processes are replacing face-to-face (F2F) discussions of research. Is this a good thing? For whom? How do we advance the ethical and legal integrity of consent processes as the emphasis shifts to technological efficiency? Professor  Simon addresses these questions with the support of fresh data from a multisite randomized trial comparing electronic and F2F consent processes for genomic biobanks.
Chris Simon, PhD is a bioethicist and medical anthropologist. He teaches and does research on the ethics and integrity of high-stakes scientific research. He has published over two dozen articles on the ethics of informed consent and has been repeatedly funded by the NIH to investigate methods of improving informed consent. His latest work is on digital or electronic informed consent, in particular the ethical concerns arising from the automation of formerly human interactions around informed consent.
See recording of Chris Simon's talk.