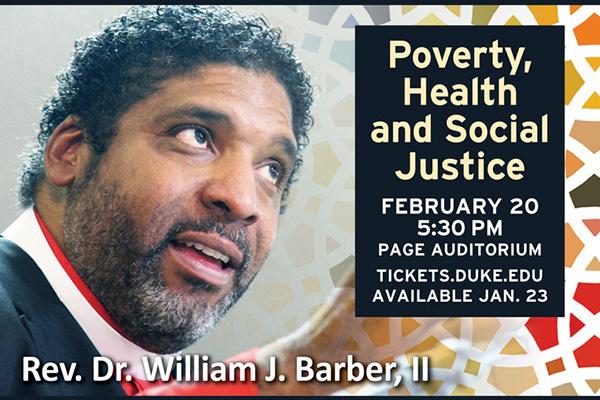 Tuesday, February 20, 2018 - 5:30pm to 6:30pm
Rev. Dr. William J. Barber, II is the president of Repairers of the Breach and co-chair of the Poor People's Campaign: A National Call for Moral Revival which is a multi-state movement fighting to end systemic racism, poverty, the war economy, environmental destruction, and other injustices. Repairers of the Breach is a not-for-profit organization that seeks to build a moral agenda rooted in a framework that uplifts our deepest moral and constitutional values to redeem the heart and soul of our country.
Barber founded the Forward Together Moral Movement that gained national acclaim with the Moral Monday protests at the NC General Assembly in 2013 which drew thousands of protesters calling for the state government to embrace a moral public policy agenda, of which 1200 were arrested. He is the pastor of Greenleaf Christian Church in Goldsboro, NC and also served as president of the NC NAACP from 2006-2017.
See recording of Rev. Barber's talk.