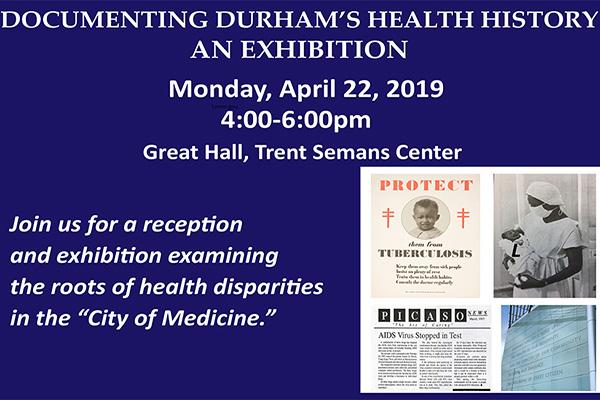 Thursday, November 21, 2019 -

4:30pm

to

6:30pm
Medical Center Library, Room 102
Special Event
Remarks by Jeffrey Baker, MD, PhD, Director, Trent Center for Bioethics, Humanities & History of Medicine
Please join us for a reception and exhibition examining the roots of health disparities in the "City of Medicine." The reception will be held 4:30-6:30pm. Remarks by Jeffrey Baker, MD, PhD at 5pm.
How have racial health disparities in Durham been understood over the past century? To what extent have their structural roots been appreciated? What role has Duke Health played in this history?
This exhibit explores these questions using maps, images, and video interviews. It focuses on four case studies: tuberculosis before WWII, childbirth during hospital desegregation, HIV/AIDS epidemic in the 1980-90s, and the more recent rise of diabetes and obesity. 
Co-sponsored by the Trent Center for Bioethics, Humanities & History of Medicine and the Medical Center Library & Archives. Supported by a Duke Bass Connections grant.