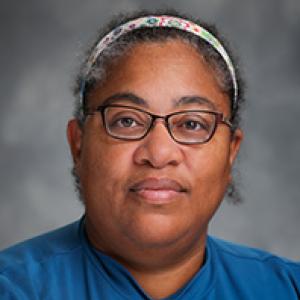 Nicole Larrier, MD, MSc
Associate Professor of Radiation Oncology
Duke University School of Medicine
Faculty Associate, Trent Center for Bioethics, Humanities & History of Medicine
nicole.larrier@duke.edu
Nicole Larrier MD, MSc is a radiation oncologist dedicated to the care of children, young adults and adults with complex malignancies ranging from classic pediatric malignancies to sarcomas to complex palliative care cases. In addition to maintaining a busy clinical practice, Dr. Larrier is a longstanding member of the Clinical Hospital Ethics Service at Duke University Hospital. 
As a member of the Duke University faculty, she has engaged in faculty governance and was elected to the Academic Council (2014-16 and 2018-present).  Through this work, she was appointed to the University Faculty Hearing Committee in 2019.  In recent years she has served as a delegate for the medical school's Diversity Equity and Inclusion (DEI) Committee (2019-present), overseeing radiation oncology departmental DEI efforts.