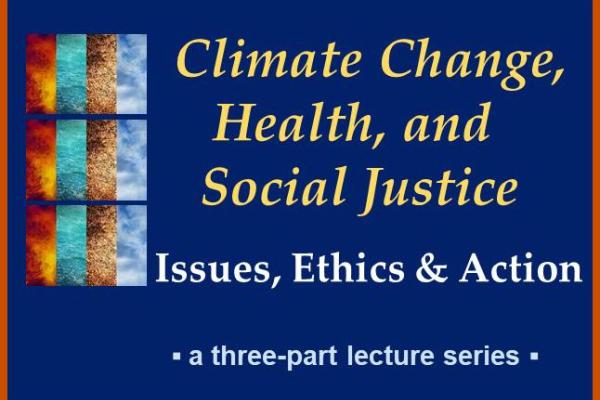 Wednesday, January 13, 2021 -

12:00pm

to

1:00pm
Webinar
Connecting Planetary Health and Human Health... Ethically
Howard Frumkin, MD, DrPH
University of Washington School of Public Health
Opportunities for Clinical Action at the Intersection of Climate Change and Health Equity
Aparna Bole, MD
Case Western Reserve School of Medicine
From the big picture perspective of a changing planet, moving to a lens on the human and individual level, Drs. Howard Frumkin and Aparna Bole collaboratively discuss the complex interconnections between planetary health and human health. What are the far-reaching impacts of climate change on health?  What are the ethical considerations? What are the implications for patients and clinicians? And what are our opportunities and responsibilities for action?
Howard Frumkin, MD, DrPH, a physician and epidemiologist, is Professor Emeritus of Environmental and Occupational Health Sciences at the University of Washington.  Previously he was head of the Our Planet, Our Health initiative at the Wellcome Trust (2018-19), Dean of the University of Washington School of Public Health (2010-16), Director of the National Center for Environmental Health at the U.S. Centers for Disease Control and Prevention (2005-10), and Professor and Chair of Environmental and Occupational Health at Emory University (1990-2005).  His nine books include Planetary Health: Protecting Nature to Protect Ourselves (Island Press, 2020). 
Aparna Bole, MD, is Medical Director of Community Integration at University Hospital Rainbow Babies & Children's Hospital and an Associate Professor of Pediatrics at Case Western Reserve University (CWRU) School of Medicine in Cleveland, Ohio. She is particularly interested in the intersection between environmental sustainability and pediatric public health. She serves as chair of the American Academy of Pediatrics Council on Environmental Health and as co‐chair of the Healthcare Without Harm board of directors.
This event is the first in a three-part series of lectures on Climate Change, Health, and Social Justice: Issues, Ethics, and Action. More information and lecture recordings