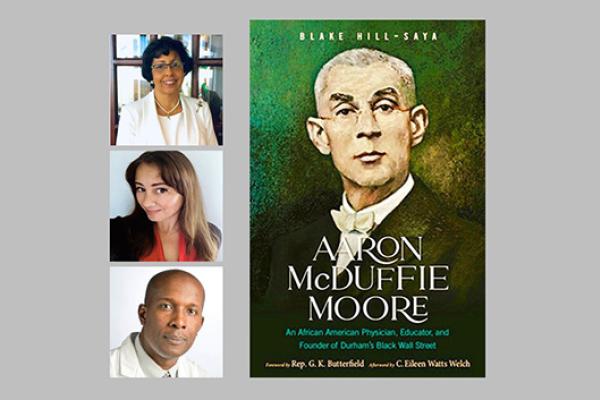 Friday, April 16, 2021 -

12:00pm

to

1:00pm
Webinar
Boyarsky Series on Race & Health - Panel Discussion
 
This event is a conversation about the impact of the life of Dr. Aaron McDuffie Moore (1863-1923) on the health of Durham's Black residents. Panelists discuss his role as a pioneering physician, educator, and driving force behind the establishment of Lincoln Hospital, the first secular, freestanding African American hospital in North Carolina. They also explore Dr. Moore's legacy for our current times.
C. Eileen Watts Welch is the President & CEO of the Durham Colored Library, Inc. (DCL) one of the oldest non-profit organizations in Durham, NC. Founded by her great grandfather, Dr. Aaron McDuffie Moore, chartered in 1918. In 2014, Ms. Welch laid the foundations for beginning a new DCL initiative to research a biography of Dr. Moore's life and work, ultimately written by author Blake Hill-Saya and published in 2020 by UNC Press.
Blake Hill-Saya is a biracial writer, verbal branding consultant, and classical musician living in Los Angeles. She is author of the recently published biography, Aaron McDuffie Moore: An African American Physician, Educator, and Founder of Durham's Black Wall Street.
Damon Tweedy, MD is Associate Professor of Psychiatry and Behavioral Sciences and a faculty member of the Trent Center for Bioethics, Humanities & History of Medicine. He is author of Black Man in a White Coat: A Doctor's Reflections on Race and Medicine. 
See a recording of the event.