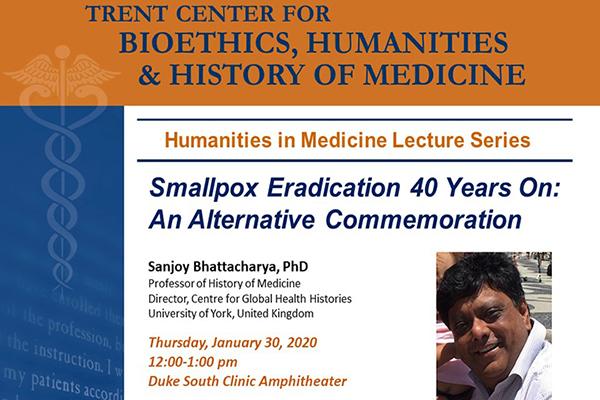 Thursday, January 30, 2020 -

12:00pm

to

1:00pm
Humanities in Medicine Lecture
Sanjoy Bhattacharya, PhD, Professor of History of Medicine; Director, Centre for Global Health Histories, University of York, United Kingdom
CANCELED
due to travel complications from UK
NOTE LOCATION: Duke South Clinics Amphitheater - Adjacent to the Duke Clinics Food Court and Medical Center Bookstore.
Lunch provided at NOON. Talk begins at 12:10pm.
An effective vaccine caused health officials around the world to start dreaming about the prospect of smallpox eradication. In the mid-1960s, a series of US Centers for Disease Control (CDC) and USAID- supported pilot programs in western and central Africa proved the efficacy of the freeze-dried vaccine and provided the strategic template for worldwide smallpox eradication. But was it really all so simple? This lecture adopts a more expansive and critical perspective. It considers political, public health, and social contributions and responses around the world from 1948, the year the WHO was established, to 1980, when smallpox eradication was formally certified by an international commission of scientists. It will pose questions about historical method, and wider assumptions made about human and ideological value in international and global health projects.