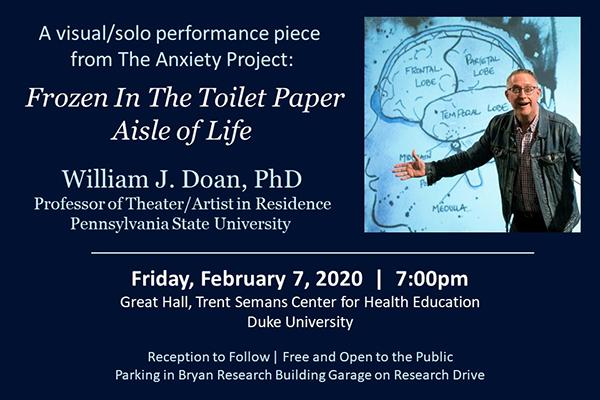 Friday, February 7, 2020 - 7:00pm
Special Event
William J. Doan, PhD, Professor of Theater/Artist in Residence, Pennsylvania State University
Reception to follow. Free and open to the public.
PARKING DETAILS: Bryan Research Building Garage, 311 Research Drive. From Erwin Road, turn on Research Drive. Continue past circle. Underground parking deck on left, just after the sign for Joseph and Kathleen Bryan Research Building.  Exit to the rear of the garage. The Trent Semans Center is directly across the circle from the garage. The Great Hall is on the floor as you enter.
A part of The Anxiety Project, Frozen In The Toilet Paper Aisle Of Life combines stories and drawings in a very personal and in depth look at the complex ways we understand anxiety and depression. A mix of comedy and drama with a dash of science and research, Frozen In The Toilet Paper Aisle Of Life looks honestly at how one person lives with anxiety and depression with the hope that an honest look will help someone else break free from the stigma of mental illness and find their own path to achieving mental health. Frozen In The Toilet Paper Aisle Of Life features Doan, with an assist from Tyler Sperrazza.
William J. Doan, PhD is a past president of the Association for Theatre in Higher Education and a Fellow in the College of Fellows of The American Theatre. In addition to articles in scholarly journals, Doan has co-authored three books and several plays. He has created solo performance projects at a variety of venues across the U.S., and abroad. His current work, Frozen In The Toilet Paper Aisle of Life, is part of a larger project titled The Anxiety Project. Work from this project includes multiple short graphic narratives published in the Annals of Internal Medicine/Graphic Medicine and Cleaver Magazine. He is a Professor of Theatre in the College of Arts and Architecture and Artist-in-Residence for the College of Nursing at The Pennsylvania State University, serving as the Penn State Laureate for 2019-2020.
This event is made possible through the generous support of the Josiah Charles Trent Memorial Foundation Endowment Fund; the Departments of Art, Art History and Visual Studies and Theater Studies; the MFA in Experimental and Documentary Arts; the Arts of the Moving Image Program; the Health Humanities Lab; the BrainCultures Lab; and Duke's Institute for Brain Science (DIBS).