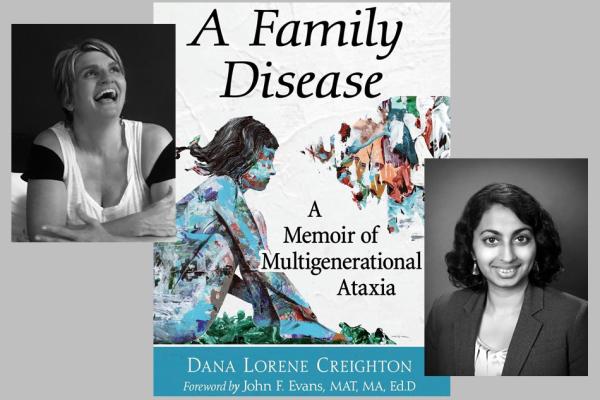 Tuesday, March 30, 2021 -

12:00pm

to

1:00pm
Webinar
Humanities in Medicine Lecture
In 2006, Dana Creighton was diagnosed with spinocerebellar ataxia, an inherited neurological condition that also took the lives of her mother and several family members. Fifteen years later, she has published a powerful new memoir, A Family Disease: A Memoir of Multigenerational Ataxia, drawing on research in neuroplasticity, personal memories, and medical records to highlight how the stories we tell about illness can create meaning out of trauma. Following a reading from her memoir, Ms. Creighton and her neurologist, Dr. Sneha Mantri, join in conversation.
Dana Creighton, MS (exercise physiology), has contributed to various publications in scientific journals. She worked in medical research and community health at the University of North Carolina-Chapel Hill and Duke University for nearly twenty years. Ms. Creighton created a niche which involved peeling apart the steps in a complex process, to determine how to best implement an intervention. Her mother's story was brought to life using these same tools to make sense of how our drastically different experience and outcome with the same disease became our reality. Since leaving the workforce in 2017, she volunteers with the National Ataxia Foundation (ataxia.org).
Sneha Mantri, MD, MS is a neurologist who cares for patients with Parkinson's disease and other movement disorders. She is also the director of the Trent Center's Program in Medical Humanities. Dr. Mantri explores the use of creative writing to improve physician understanding of patient experience and to mitigate physician burnout. Her narrative medicine projects have been presented at the inaugural conference of the International Narrative Medicine Network (2013), the Innovations in Medical Education conference (2016), and the annual meeting of the American Academy of Neurology (2018). She was a founding editor of The Intima: A Journal of Narrative Medicine and former writer for Synapsis.
See a recording of the event.