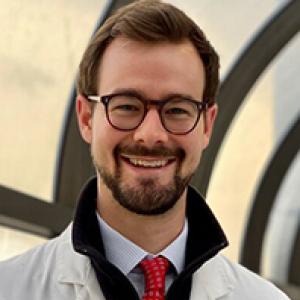 John David (J.D.) Ike, MD
Medical Instructor, Department of Medicine
Faculty Associate, Trent Center for Bioethics, Humanities & History of Medicine
johndavid.ike@duke.edu
John David (J.D.) Ike will join Duke University Health System in July 2022 as a medical instructor in the division of General Internal Medicine, Department of Medicine (Hospital Medicine at Duke University Hospital). Until then, he is clinical lecturer in the division of Hospital Medicine at the University of Michigan where he works as a hospitalist at the Ann Arbor VA Healthcare System. He is also a clinical scholar in the National Clinician Scholars Program housed within the Institute for Health Policy and Innovation at the University of Michigan. His research explores the impacts of health humanities curricula among health professional students.
Dr. Ike earned a BA in Art History from Davidson College, an MD from Emory University, and a Master of Science in Health and Healthcare Research from the University of Michigan. He is a graduate of Duke University's Internal Medicine Residency Program and also a recent graduate of the Harvard Macy Institute's Art Museum-based Health Professions Education Fellowship, where he obtained additional training in museum-based teaching methodologies.
At the University of Michigan, Dr. Ike also serves as a contributing faculty member to the Pathway for Excellence in Medical Humanities where he uses the visual arts to engage and mentor medical students in a variety of settings. Recent publications include a review article on the role of psychometric measurement in the evaluation of health humanities curricula and reflections on a two-week virtual medical arts curriculum.