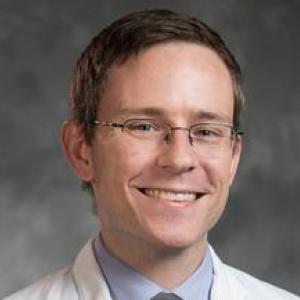 Joshua Briscoe, MD
Assistant Professor of Medicine
Assistant Professor of Psychiatry and Behavioral Sciences
Duke University School of Medicine
Faculty Associate, Trent Center for Bioethics, Humanities & History of Medicine
joshua.briscoe@duke.edu
Joshua Briscoe, MD is an Assistant Professor in the Department of Medicine and in the Department of Psychiatry and Behavioral Science in the Duke University School of Medicine. He's a hospice and palliative care physician at the Durham VA Medical Center, working alongside a wonderful interdisciplinary team caring for veterans with serious medical illness. He is also the Medical Director for the Durham VA inpatient hospice unit, inpatient palliative care consult service, and outpatient palliative care clinics. His particular interests focus on medical ethics in serious medical illness, as well as ethics at the intersection of technology, medicine, and moral formation. He writes about these issues in a monthly newsletter entitled Notes from a Family Meeting. He teaches biomedical ethics to medical students and palliative care fellows. Specifically, he teaches Medicine 452C – Clinical Medical Ethics, an elective offered through the Trent Center for medical students.
More information about Dr. Briscoe...