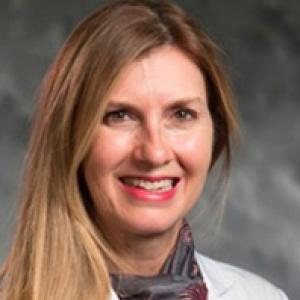 Karen Jooste, MD, MPH
Assistant Professor of Pediatrics
Duke University School of Medicine
Faculty Associate, Trent Center for Bioethics, Humanities & History of Medicine
karen.jooste@duke.edu
Karen Jooste, MD, MPH is a palliative care physician and pediatrician at Duke University. She works on the Pediatric Quality of Life team at Duke Children's Hospital & Health Center, and with adults in both palliative care and hospice work. She completed her residency in Pediatrics at the Children's Hospital of New York at the Columbia University Irving Medical Center, her Master of Public Health at the Mailman School of Medicine, Columbia University and her Hospice and Palliative Medicine Fellowship at Duke. Her passion as both a clinician and an educator, is the intersection between communication, racial and gender equity, ethics and medical humanities (narrative medicine). 
Dr. Jooste teaches narrative medicine through the Trent Center at Duke and has co-led annual workshops at Duke Integrative Medicine in Leading Others in Writing for Health.  She serves as an ethics consultant at Duke University Hospital.  She is trained as a VitalTalk trainer in advanced communication skills. She loves poetry, writing, traveling and cooking.