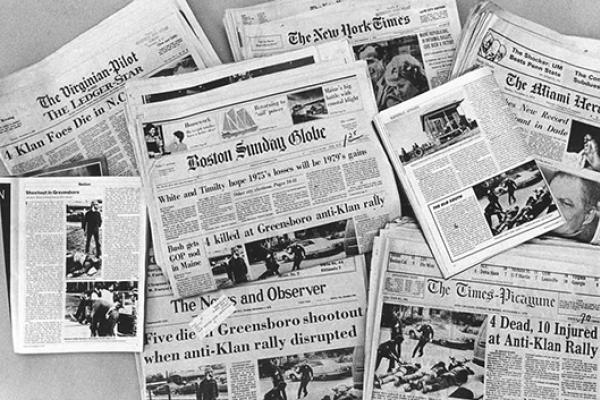 Tuesday, December 15, 2020 -

 

5:30pm

 

to

 

6:45pm
Registration Required
Boyarsky Series on Race & Health - Panel Discussion
On November 3, 1979, members of the Ku Klux Klan and American Nazi Party drove into an African-American neighborhood in Greensboro, North Carolina to disrupt an anti-klan march planned by the Communist Workers Party. The KKK and Nazis opened fire on the demonstrators, killing five labor and civil rights activists, three of whom - Dr. Mike Nathan, Dr. Jim Waller, and Cesar Cauce - had ties to Duke University. Sandy Smith and Bill Sampson were also killed on that day. Two all-white juries subsequently found the shooters not guilty of state and federal criminal charges. Later in a civil suit for wrongful death, the KKK, Nazis, and City of Greensboro were found liable. 
Following a segment from a recent film about what became known as the 1979 Greensboro Massacre, survivors share why this story is worth remembering, and why it remains relevant to health and racial justice activism today.
Panelists include:
Dr. Marty Nathan, Physician, widow of Mike Nathan, and Duke University Medical School graduate
Dr. Paul Bermanzohn, Psychiatrist, wounded survivor of the Massacre, and Duke University Medical School graduate
Joyce Johnson, Co-Executive Director of the Beloved Community Center of Greensboro, Massacre survivor and Duke University graduate
The panel is facilitated by Rosalyn Pelles, Massacre survivor and strategic advisor to the Poor People's Campaign.
See a recording of the event.