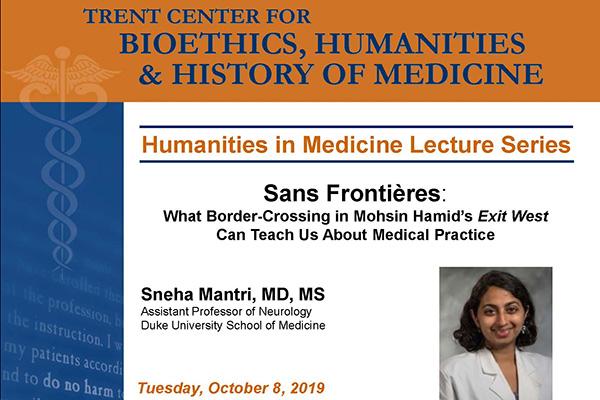 Tuesday, October 8, 2019 -

12:00pm

to

1:00pm
Humanities in Medicine Lecture
Sneha Mantri, MD, MS, Assistant Professor of Neurology, Duke University School of Medicine
Borders abound in medical practice: the border between sickness and health, the border between patient and physician, the border between personal and professional selves. In this talk, Sneha Mantri shows how a novel featuring no doctors at all contains essential truths for medical education, training, and practice.
Sneha Mantri, MD, MS explores the use of creative writing to improve physician understanding of patient experience and to mitigate physician burnout. Her narrative medicine projects have been presented at the inaugural conference of the International Narrative Medicine Network (2013), the Innovations in Medical Education conference (2016), and the annual meeting of the American Academy of Neurology (2018). She was a founding editor of The Intima: A Journal of Narrative Medicine and currently writes for Synapsis.
See recording of Sneha Mantri's talk.