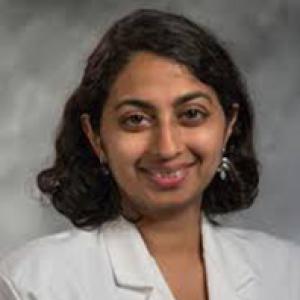 Sneha Mantri, MD, MS
Director, Program in Medical Humanities
Trent Center for Bioethics, Humanities & History of Medicine
Assistant Professor of Neurology
Parkinson's Disease and Movement Disorders Center
Duke University School of Medicine
sneha.mantri@duke.edu
Sneha Mantri is director of the Trent Center's Program in Medical Humanities. Dr. Mantri is a neurologist who cares for patients with Parkinson's disease and other movement disorders. She pursues academic interests in the imaginative formation of physicians, particularly the use of creative writing to improve physician understanding of patient experience and to mitigate physician burnout. Her narrative medicine projects have been presented at the inaugural conference of the International Narrative Medicine Network (2013), the Innovations in Medical Education conference (2016), the annual meeting of the American Academy of Neurology (2018, 2019), and the annual conference of CHCI Health and Medical Humanities Network (2019). As a clinical movement disorders specialist, she is also involved in patient-physician communication initiatives sponsored by the Michael J. Fox Foundation and the Parkinson's Foundation. She was a founding editor of The Intima: A Journal of Narrative Medicine, a former writer for Synapsis, and is currently working on a historical novel on the eugenics movement of the early 20th century.